It's no secret: Engineering is not just a man's world. Perceptions – along with demographics – are shifting, and Wiley is proudly part of the movement to raise the profile of women in engineering, to inspire future generations. Here, we celebrate engineering researchers in a collection of interviews with real science heroes. 
Interviews by Kelly Kerridge, Senior Product Marketing Manager, Wiley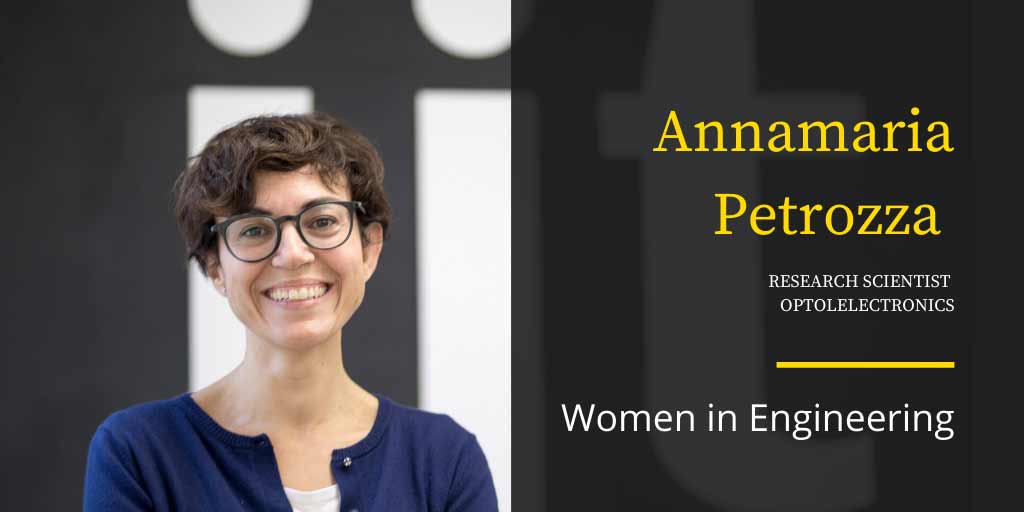 Dr. Annamaria Petrozza, Research Scientist, Center for Nano Science and Technology, Italy

Why did you choose Engineering as a career path?
Since I was at school I found myself very comfortable dealing with scientific STEM subjects, thus it was a natural path. Then, I must say that I often realized that people were pretty surprised to find a girl interested in such a discipline, and I liked the idea of taking on the challenge.
What challenges do women face in the Engineering academia?
We are very few, which means that we may miss a network.
What does a typical day in your job involve?
At the current stage of my career, part of my day is dedicated to projects and people management. I have one-to-one meetings with my collaborators or group meetings to design and plan experiments and discuss data. The management part also includes administrative work. Some days are dedicated to the writing of manuscripts, proposals, reports. I often also travel.
What are your hopes for the future of Engineering?
I see that the field, in all its forms and aspects, is properly merging with many disciplines – I can say that is evolving in the right direction.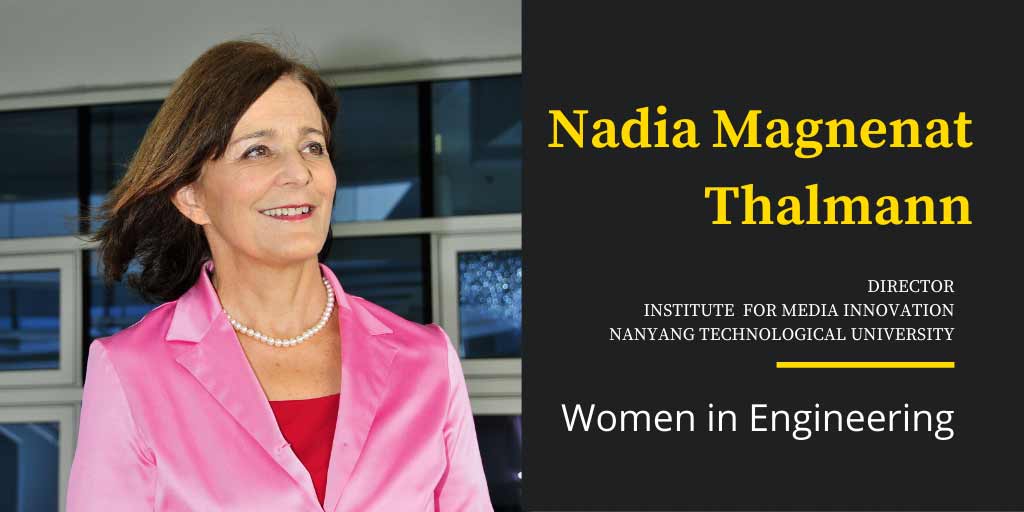 Prof. Nadia Magnenat Thalmann, Director of the Institute for Media Innovation at Nanyang Technological University, Singapore
What inspires you about Engineering?
Everything. I studied biology, then biochemistry, then Quantum Physics. It has fascinated me, it fascinates me today and I fear I will not have enough time to know all that I would like to know. The challenge of knowing what is going on in our body, mind, the way atoms come together to
create molecules, what is the energy, or the oxygen cycle, the role of each element in the ecology chain, etc. This is such a privilege to discover all that and as said to be part of it.
What is the most exciting thing about your job?
I am in the 3D visualization field using Virtual and Augmented Reality. I like to simulate anything and see through the infinite world, any imaginative world as well as the universe. I like for example the 3D fashion as it looks very design but in reality, we need to work on complex physic-based systems to simulate the deformation of clothes. I also work on social robotics, to produce companions of the future. I am very interested to make them more sensitive, intelligent, and aware of situations.
How do you think the perception of Engineering as a male-dominated career can be changed?
Women have to change their mindset. There is no reason why they do not go into Engineering. They will surely bring a lot of innovations. They should pay visits to several and very different labs and see what they like best. Science needs women. The ball is on their side.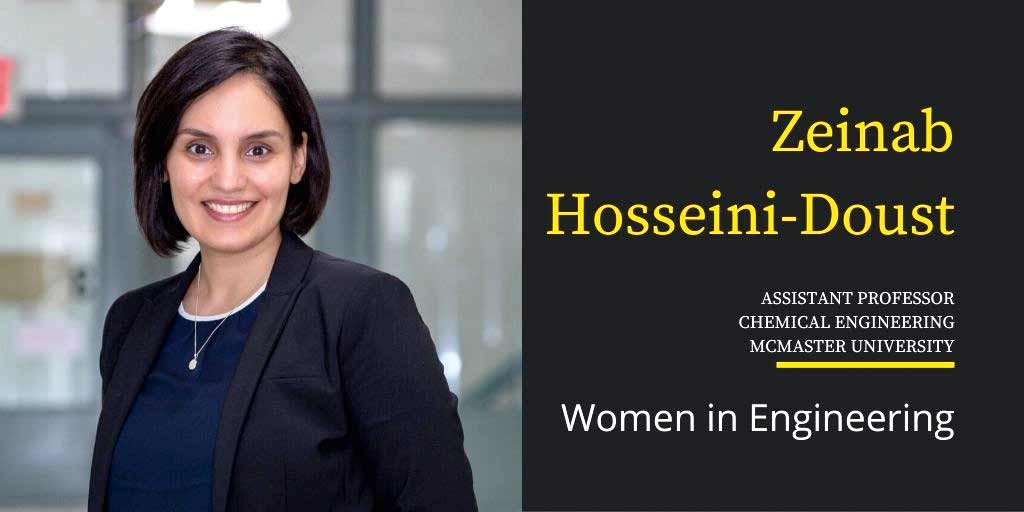 Dr. Zeinab Hosseini-Doust, Assistant Professor, Chemical Engineering, McMasterUniversity, Canada
What inspires you about Engineering?
I love the fact that engineers can make something from nothing. The power of engineering lies in starting from a concept, going through the engineering design process, and achieving something that didn't exist before. This process is unique.
What challenges do women face in the Engineering academia?
It is no secret that women face more challenges in certain jobs than men. I don't think the challenges should deter women from perusing careers in engineering. Most academic environments are aware of this issue and are actively working on as I have experienced first-hand in my faculty. The management has been more than willing to work with me to help me continue my research during and after my maternity leave.
A major challenge that I recently experienced was dealing with academic bullies. According to a US survey, women and ethnic minorities are more likely to experience workplace bullying. In my case, a senior colleague in another faculty made a series of ethically questionable moves and started harassing me so that I wouldn't speak out. I was fortunate to have great allies and mentors to help me navigate the situation, but no one should have to live through a bullying experience. It's extremely demoralizing and academic institutions should raise awareness about this problem and encourage victims to speak out.
What is the most exciting thing about your job?
Working with young bright minds, that's very exciting and rewarding.
What would you say to girls who consider Engineering as an option?
Go for it! It's a great career path. Do not doubt for one minute that you can do this. I'm not saying it's not difficult, but we need you and you have so much to contribute.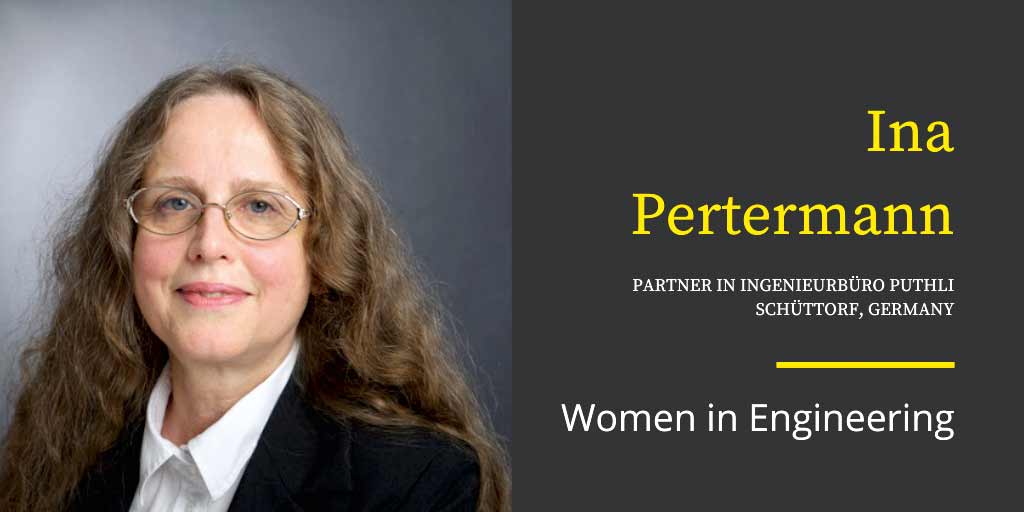 Dr.-Ing. Ina Pertermann, Partner, Ingenieurbüro Puthli, Schüttorf, Germany
How did you choose your career path?
In my family, we have a few scientists, engineers and technicians. The most important influence was my father as a civil engineer. In school, I was good at almost everything. However, mathematics, physics and chemistry were the most difficult topics and success in these did really count. More importantly, the core of science and engineering could not be influenced by the communist ideology of the country I grew up in, studied and worked for the first decade of my working life, East Germany.
What is the ratio of female to male in your workplace?
It changed dramatically throughout my working life. Before 1990 in East Germany there were slightly more young women entering Civil Engineering than men. After 1990 in the Netherlands and later in West Germany, I was very often almost the only one. During my time in the Netherlands I did encounter only three other women, all from China, who were also surprised by the absence of female engineers.
What kind of impact would bring you great satisfaction in your work?
I would be pleased if research results can be translated into codes of practice to improve the rules for a reliable and economically viable design of structures such as greenhouses. Some of my findings are also useful for photovoltaic panels, glass design or lightweight steel structures in general.
What would you say to girls who may be considering Engineering as a career choice?
Engineering is a good career choice with the perspective of higher than average income, large autonomy, responsibility and the possibility to assert some authority. It is very diverse as are the possible career paths. – Be prepared and do not take every rejection personally when you apply for a job or a project. Adapt and try again; perceptions may change. If not, go somewhere else where your work is appreciated!