Professor Dr. Helga Rübsamen-Schaeff was Senior Vice President and Global Head of Anti-Infective Research at Bayer HealthCare (Germany) and is now Chief Executive Officer of the Bayer Corporation spin-off AiCuris GmbH ('anti-infective cures') which she has headed since its foundation. Her research interest as a biochemist was in cancer research where she pioneered the study of retroviruses. Later, she began research on Aids in which she developed tests and proved the existence of several different HIV viruses. Within Bayer AG and later AiCuris GmbH she has developed new drugs. One of the many awards that Professor Rübsamen-Schaeff has gained is the Mestermacher prize 'Manager of the Year 2004'.
Chemistry of all subjects
When she started to study chemistry at the University of Münster the number of female students in this area was extremely low, 10 % female students compared with 90 % male students. In the late 1960s young women who enrolled in universities were suspected of searching for husbands rather than being really interested in their studies. Chemistry wasn't Prof. Rübsamen-Schaeff's first choice. "It was the subject I had the least knowledge of", Prof. Rübsamen-Schaeff admits with a laugh. Her girls' school's main focus lay in philosophy, art, and extinct languages such as Latin.
After having successfully passed the pre-exam, Rübsamen-Schaeff was granted a scholarship by the Studienstiftung des Deutschen Volkes (German National Academic Foundation). Nonetheless, she still doubted whether chemistry was really the right choice or if she should take a different course. She then came into contact with the development of cancer cells and their way of working in a summer school seminar. Subsequently, the young woman decided to specialize in the area of biochemistry. "My purpose lay before me, from then on I knew what I wanted to do", Rübsamen-Schaeff states.
Just try it!
Already at the age of 24 she had been awarded PhD 'summa cum laude'. Her work as a post-doctoral researcher then led her overseas to work at Cornell University, Ithaca (NY), one of the Ivy League universities in the USA. Back in Germany she concentrated fully on cancer research by looking for the perfect system to study the development of healthy cells into carcinogenic ones. The Rous-Sarkoma-virus with its one and only gene proved to be that ideal model, and during the following years the scientist directed her attention to researching that virus. Today the study of retrovirus (RNA virus) has become a standard in renowned cancer research but Rübsamen-Schaeff pioneered the method.
In the 1980s, she had been awarded the qualification of a university lecturer in the field of biochemistry and worked at the Chemotherapeutic Research Institute Georg-Speyer-Haus in Frankfurt. It was the Managing Director, Professor Brede, who approached Rübsamen-Schaeff to become Scientific and Managing Director of the Institute. She admits to having been unsure if she would be able to handle this position. Prof. Brede, however, had no doubts and simply told her "to just try it". Within a few years of becoming the new Director she managed to transform the Georg-Speyer-Haus from a low-key institution into an excellent research institute. Rübsamen-Schaeff designed HIV tests and applied for patents on these. In addition, she worked on the development of treatments against the virus and cooperated with Hoechst and Bayer.
A new world
In 1994 Prof. Rübsamen-Schaeff moved into industry. Bayer AG offered her the position of Director of the Antiviral Research Department. She now had the opportunity not only to do research but to also develop new drugs. With that she entered a new world. On the one hand she experienced the long timescale of launching a new drug, from development to actual application. On the other hand, she then had to deal with an annual budget of about 17.5 million Euros as compared to a few hundred thousand at the Georg-Speyer-Haus. Seven years later, in 2001, she accepted the position of Senior Vice President and Global Head of Anti-Infective Research at Bayer HealthCare (Germany). When the Bayer Corporation intended to spin off the department to an independent corporation, again it was Prof. Rübsamen-Schaeff who was asked to become Chief Executive Officer.
Are you willing to take risks?
Rübsamen-Schaeff sees her success arising from her willingness to take risks, following her own inclinations, hard work and leaving the old paths. Women can be very successful if they are prepared to do this. Furthermore, the lack of experts in natural sciences offers good opportunities to young women. However, Rübsamen-Schaeff also admits that the basic conditions are highly important. This includes, for example, well-organized child day care as well as society's willingness to accept successful working women.
by Susanne Bartel, from: J. Apotheker, L. Sarkadi (eds.), European Women in Chemistry, ISBN 978-3-527-32956-4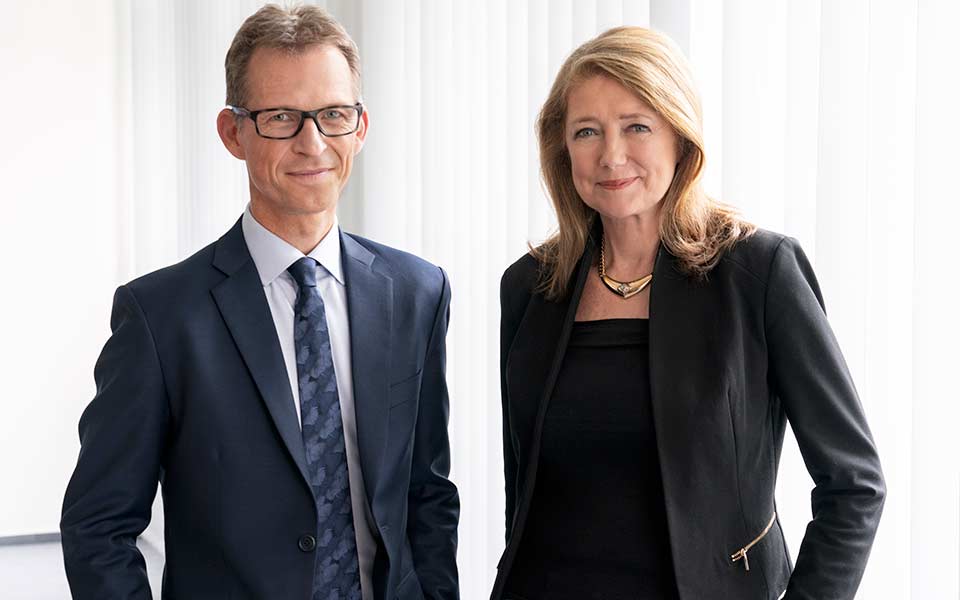 (v.l.n.r.) Dr. rer. nat. Holger Zimmermann, Prof. Dr. rer. nat. Helga Rübsamen-Schaeff, Preisträger Deutscher Zukunftspreis 2018, Bild: © Ansgar Pudenz